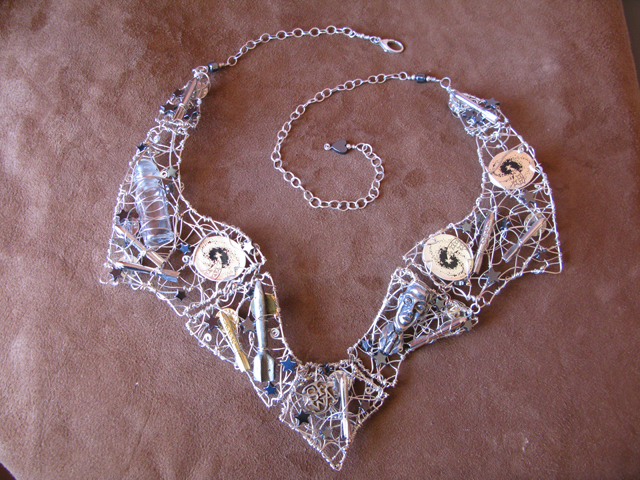 Link-by-link guide, counterclockwise: Link 1: One Hugo nomination pin, year unknown.

Link 2: One heart-shaped sapphire in a bottle for A Civil Campaign from the, natch, Sapphire Award folks, a second one for "Winterfair Gifts"; one Nebula pin (the oval that looks like a cat's eye; it's actually a reverse spiral galaxy in black inlay with a sort of comet-looking pattern); two Hugo pins.

Link 3: Two Hugo pins, (one gold dated 1992, one gray steel oversized) These are actually identifiable. The gold rocket is from Orlando and the nomination of Barrayar, which won that year; the gray steel one is from Chicon V and the nomination of The Vor Game the year prior, my first Hugo win in the novel category.

Link 4 (central): My SFWA gold membership pin (a distinction due Nebula winners which was invented before SFWA took up nomination pins), one Hugo pin (the newest, for Paladin of Souls; Elise left space and installed it at Boston, where I got it in my nominee's packet and she had a table in the Dealer's Room.)

Link 5: Strange little shrunken head, Howard Lovecraft pin for World Fantasy nomination (for The Curse of Chalion), pin designed by Gahan Wilson, one Hugo pin.

Link 6: Two Hugo pins, two Nebula pins. One of the Hugo pins is dated 1990, which presumably must have been for a 1989 work, which would make it my very first Hugo ever, for the novella "The Mountains of Mourning" from the Den Haag Worldcon. Which I did not get to attend, but my Baen editor Toni Weisskopf wrestled the big one home for me through several international Customs, bless her. (Unless, possibly, it was from the Boston Worldcon for Falling Free.)

Link 7: One Hugo pin, not dated.