Dave's Photo Album
Pictures from ConDFW, Dallas-Fort Worth TX, 21-23 February 2003
Tristan David Drake, son of Jonathan and April Drake, born Saturday January 25, 2003 at 6:03 p.m. EST. At a healthy 8 pounds 8 ounces, he's the first grandchild for Dave and Jo Drake.
Pictures from ConGlomeration 2, August 2002
For pictures and report from Dave's trip to Belize, go to the Belize Album Page.
For pictures from ConVersion XVIII, go to the ConVersion Album Page.
For pictures from LibertyCon 15, go to the LibertyCon Album Page.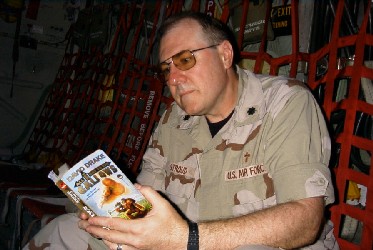 LtCol. Robert Stroud, USAF Operation Enduring Freedom, Group Chaplain (Deployed) (who assures me he wears earplugs) with recommended reading on a C-130
---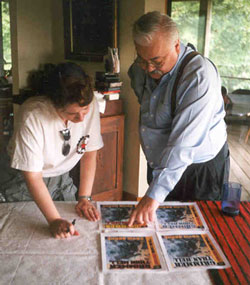 Jennie Faries (a friend who's now doing some of the cover and brochure design for Baen Books) and Jim Baen going over cover designs for Grimmer Than Hell July 4, 2002.
---
World Fantasy Con, Montreal, November 1-4, 2001
| | |
| --- | --- |
| | |
| Tania and Tom Doherty, Lee Modesitt, and Dave after a very good dinner in Montreal. | Dave looking wifty after a stock signing at Chapters in Montreal. |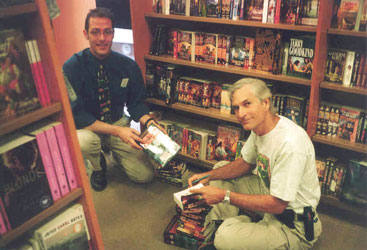 Ed has Dave signing at Indigo Books in Montreal.
---
Book Tour Pictures, September 2001
| | |
| --- | --- |
| | |
| At Books & Co. in Dayton. Some signings were better than others. This was one of the best. | With fan David Huskins |
| | |
| --- | --- |
| | |
| With an acquaintance from 1970: a 15,000 pound daisycutter bomb. | Taking picture of Northrup F-89 Scorpion, high-tech air defense from his childhood. |
| | |
| --- | --- |
| | The bomb casing beside me is not, as I thought I read on the card, that of one similar to the plutonium bomb Bockscar dropped on Nagasaki. |
---
| | |
| --- | --- |
| Here I am at Lebanon State Forest in the heart of the Pine Barrens of New Jersey, a side trip from the JerseyDevilCon April 6, 2001 | |
---
CHRISTMAS

My friends give me neat stuff. This Christmas the presents included the first two issues of Air Wonder Stories, completing my set of that deservedly-little-known pulp.
---
Baen Books has now officially moved to North Carolina. Jo and I had dinner Christmas Eve with Jim at his house/office. The place is gorgeous, and it's in an even nicer setting including five-acre pond. The left picture is Jim at his e-mail computer; the right is Jim in the office portion of the building holding the Gary Ruddell cover for THE TIDE OF VICTORY, the fifth book in the Belisarius series which Eric Flint is writing from my outlines.
Jim was invited to our family and friends Thanksgiving dinner (fifteen people, and a great time was had by all) but had to cancel at the last moment because his car wouldn't start. He did, however, make it to dinner of pretty much the same group the next night at a family-style BBQ place in Durham, another tradition in our crowd. Everybody pigged out happily again. The shots here are from that event, not Thanksgiving; but maybe next year.
---
Celebrating My 55th Birthday, September 24, 2000
Every year (since 1973) for my birthday we have a pig-picking--a whole barbecued pig. The past several years we've been borrowing a gas cooker from a neighbor instead of doing it with wood or wood and charcoal; this isn't as traditional, but I don't have a splitting headache the next day either. On the left, I'm cutting up the pig with the help of two guests (there were about a hundred people this year). On the right, one of the presents my friends gave me. This is the August, 1930, issue (whole number eight) of Astounding, the issue I needed to complete my set of the magazine. I won't claim to like getting older; but I will say that the friends I've made over the years are the best part of my very good life.
| | |
| --- | --- |
| | |
---
On June 5, 2000, Jo and I visited the Mark Twain Mansion in Hartford, CT. Twain and Kipling were similar in many ways, drawn from poverty by their genius, and they got along well when they met. I was struck by the different ways they lived, though.

Kipling's house in Brattleboro was a writer's work area with lovely views, very secluded. Twain built a mansion in the center of the literary district of Hartford (beside Harriet Beecher Stowe), and entertained lavishly to build his image with opinion makers.

They both succeeded brilliantly, and both were (and remain) world-class writers. But my taste is with Kipling's methods.
---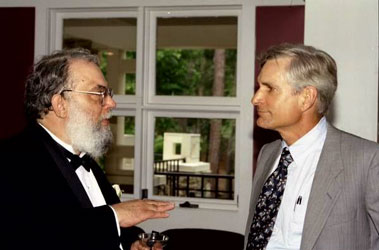 Misty Squires married Greg Peeler on May 27, 2000. Misty's father, John, is one of my oldest friends (and is one of the world's experts on MP Shiel and his writings). Here's a picture of John and me at the reception.
---
---
© 2002-2003
last updated 4 March 2003 by webmaster@david-drake.com