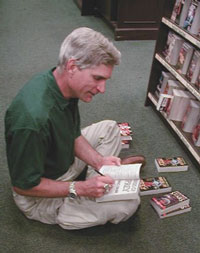 Which David Drake?
There are various David Drakes out there.At present I write fantasy and SF exclusively, although I did a number of horror short stories in the '70s.
Among the people who aren't me are the following:
David Drake the gay activist, the author (among other works) of The Night Larry Kramer Kissed Me.

David Drake who lives in Chapel Hill and works behind the camera for WUNC-TV. (He gets a lot of my phone calls. Sorry, Mr Drake.)

David Drake who wrote the romance novel Strangers and Lovers, published in 1986.

There's a David Drake porn site on the web that hasn't anything to do with either me or, so far as I know, any of the other folks in this list.

Asa Drake, a pen name used for heroic fantasy by a writing team including C. Dean Andersson. Mr. Andersson went on to write horror novels under his own name. I wouldn't mention this except that conventions have arranged stacks of my books for him to sign and have tried to put me on panels on themes of abuse in horror fiction. Go figure. Hmm.
Having said that I write only SF and fantasy, I should note that I was, however, the David Drake who worked as rewrite man on Newt Gingrich's 1984 manifesto Window of Opportunity. For more details, see my bibliography section.
---
---
© 2000, 2001
last updated 28 February 2001 by webmaster@david-drake.com